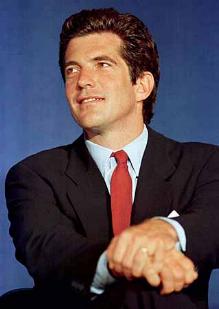 1960-1999
~Forever in our Hearts~
Nation Mourns as rescue is called off
In New York from the East side to the West side and to the humble streets of Harlem, New Yorkers prayed for a miracle that they knew was not likely. So did the rest of the world. What brought New Yorkers closer to grieving John was the mere fact that John Jr. was such a down to earth man that although he at times did not have to commute via public transportation getting around the city. He did so and did not mind mingling with the others on crowded subway buses and trains. His looks and privilege gave him every reason to be full of himself and his family's misfortunes gave him every reason to be sullen. But that wasn't John F. Kennedy Jr. He was modest, but not without temper.
He lived the first three years of his life in the White House. Went to boarding school in Massachussets and college in Rhode Island. Yet when it came to choosing a place to live, a place to lose his celebrated face in the crowd, he returned to the same address: New York City. Here is where his mother found sanctuary after the assassination of his father John Sr. Here is where he went to elementary and high school, where he got his law degree and a job as a prosecutor, where he started his magazine, and lastly where he met his wife. Here is where he could be famous and still be himself. He would attend New York Knicks games at Madison Square Garden and just the day before his departure to Martha's Vineyard he had attended a Yankee baseball game. This tragedy has affected many but mostly the families involved. The Bessette family have lost two beautiful daughters, Carolyn and Lauren. May God give these families strength during their time of mourning.
Rest in Peace John Jr, Carolyn and Lauren.
Tribute from Rose & Joni
| | |
| --- | --- |
| | |
| John Jr. and Carolyn Bessette | John with his sister Caroline |
| | |
| John Sr. with 18 month old John Jr. | John Sr, Jacqueline and Baby John |
Note: Excerpts on paragraph above taken from NY Daily News. Picture courtesy of: First photo of John Jr.alone copyrighted by Jim Bourg. Picture of John Jr. with Carolyn Bessette copyrighted by Mike Segar. Picture of John Jr. with his sister Caroline copyrighted by AP Photo/Elise Amendola. Picture of John jr. and his father in the White House Oval Office is from the Archives photos. Family picture of the Kennedys copyrighted by AP Photo.
Copyright Rose 99