OUR CHRISTMAS PAGE
PART 2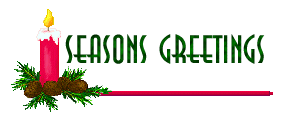 More Recipes: by ANN
Gals, (not tooting any horns here), but the following recipe won me a
monetary award in our local newspaper in 1983! Also, they published a
Holiday cookbook with my photo and recipe for a grand prize!
It's a hit here in Massachusetts, with history of Salem Witch Hysteria
of 1692 ! A FUN cake, popular for the Holidays!
I'm sharing this special one with you, since you are all special.
ANN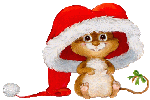 OLD WITCH'S MAGIC NUT CAKE

3 eggs
1 lb. can pumpkin
3/4 C. vegetable oil
1/2 C. water
2-1/2 C. all purpose flour
2-1/4 C. sugar
1-1/2 tsp.baking soda
1/4 tsp. salt
3/4 tsp. nutmeg
3/4 tsp. cinnamon
1 C. yellow raisins
1/2 C. walnuts, chopped

Mix egg, pumpkin, oil, and water; beat together, then add remaining
ingredients.
Pour the batter into 3 buttered 1 pound coffee cans, and place in oven
standing up. Bake at 350 degrees for 1 hour and 15 minutes, or until a
straw
from a WITCH'S BROOM inserted in cake comes out clean. Cool cake turn
upside
down to remove and frost. Sprinkle with chopped walnuts.

FROSTING
~~~~~~~~
4 oz.cream cheese
3 Tbsp. butter
1 tsp. lemon juice or vanilla extract
1/2 box confectioners sugar
Blend all above ingredients and frost cakes.
(( BEWARE OF BROOMSTICK MAGIC !))





This second recipe is another New England favorite. Cranberries are
grown and harvested here in Massachusetts!
Here's my version! (Hubby's favorite)!

ANN'S CRANBERRY SOUR CREAM COFFEE CAKE

1/2 C. margerine
1 C. sugar
2 eggs
2 C. flour
1/2 tsp. vanilla extract
1 tsp. baking powder
1 tsp. baking soda
1/2 pint sour cream plus 2 extra Tbsp. sour cream
1/2 to 3/4 C. walnuts, chopped
1/2 can WHOLE cranberries
1/2 C. brown sugar

Heat oven to 350 degrees. Grease and flour an angelfood tube pan.
Combine butter, sugar, eggs, and vanilla, in a large mixing bowl. Beat on
medium speed two minutes.

In a seperate bowl mix flour, baking powder, baking soda, and salt
alternately with sour cream. Spread 1/3 of the batter (about 2 cups)
in the tube pan. Mix together walnuts with the brown sugar, and sprinkle
about 6 Tbsp. atop the batter in tube pan. With a fork, remove WHOLE
cranberries from can and fork ontop the sugar and walnut mixture.
Add remaining batter atop the brown sugar, walnut, cranberry filling,
and sprinkle remaining brown sugar/walnuts on top batter.
Bake at about 60 minutes, or until wooden pick inserted in center comes out
clean. Cool slightly in pan before removing.

This cake may be left plain, or may be frosted with the following:
3/4 C. confectioners sugar
1/2 tsp. almond flavoring extract
1 Tbsp. warm water
Mix above ingredients, and spread over warm coffecake, letting it
drizzle
over the sides.

If you choose to frost cake, save last brown sugar/walnut filling for
atop the frosting, instead of final layer of batter.




(IF) you like spinach!
Here's a winner for Hor d'oeuvres/ Appetizers

ANN'S SPINACH BALLS

1 pkg. frozen CHOPPED spinach, (cooked & drained)
1 C. stuffing mix (e.g. Stovetop with seasoning, or Bells Stuffing Mix)
1 medium onion chopped fine
2 eggs, beaten
1/4 C. melted margerine
1/4 C. Parmesan cheese ( I use the fresh)
1/4 tsp. garlic salt
Dash of Thyme
Dash of black pepper
Mix all ingredients, and refrigerate overnight. Roll into balls the
size of walnuts. Put on coolisheet and bake 15 minutes in 325 degree oven.




Again, Cranberries- A New England Traditional Favorite!

CRUNCHY CRANBERRY CROWN (A molded salad)

1 (20-ounce) can crushed pineapple
2 (3-ounce) packages raspberry gelatin
2 cups boiling water
1 (16-ounce) can whole cranberry sauce
1 tsp. grated lemon peel
3 Tbsp. lemon juice
1/4 tsp. salt
1 C. chopped celery
1/2 C. chopped walnuts
Crisp Salad Greens

Drain pineapple well, reserving all syrup. Dissolve gelatin in boiling
water. Stir in pinaepple syrup, cranberry sauce, lemon peel and juice,
and salt. Cool until mixture thickens to consistency of unbeaten
eggwhites. Fold in pinaepple,celery, and nuts. Pour into a 1-1/2 quart mold.
Chill until well firm. Unmold onto crisp salad greens.
(If you have a fancy silver platter or lovely glass serving platter,
this molded salad can be quite an impressive eyepleaser!)
Serves 6.

Happy Holidays all!
ANN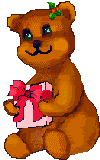 MORE TRADITIONS:
courtesy Jennifer

When I was little we always got dressed up on Christmas Eve and went to
church. Then we would come home and light the candles. In Coral
Springs (even today) everyone lines their property with candles in bags
(lunch sacks). Then we would have a big appetizer type dinner. After
dinner we would walk around the streets looking at all the christmas
lights and candles. It's the most beautiful thing to see. The whole
city glows! After our walk we went home and got to open one present.
It was really exciting.

Now that my sister's and I are all grown up with families of our own,
things have changed just a little. We still all get together at my
mothers house on Christmas Eve. We still have appetizers for dinner
and we still light candles and go for walks with the kids. But after our
walk we get to open all of our presents. That way we can all spend
Christmas morning at home with our husbands and children.

Because of my parents Christmas Eve has always been my favorite day of
the year!



Merry Christmas Everyone!
Jennifer